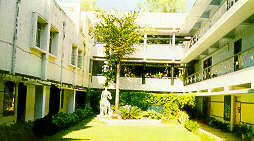 Course Offered

ACADEMIC PROGRAMMES The Department mainly offers the following Under-graduate and Post-graduate programmes, in addition to the Ph.D. programmes, in Architecture and Planning. Under Graduate and Post Graduate Courses
Five year Bachelor of Architecture Degree Course (B.Arch).
One & Half year Post-graduate Course in Architecture (M. Arch)
One & Half year Post-graduate Course in Urban and Rural Planning (MURP)
One & Half year Post-graduate Course in Building Science, primarily run by the Civil Engineering Department, is provided with our assistance in the teaching programme. Students admitted with Architecture background are awarded M.Arch. (Bldg. Sc.) Degree by this Department.
B.Architecture Course Structure:
The Department offers a 5-year undergraduate Course in Architecture leading to a Degree of bachelor of Architecture. The Five year programme consists of 10 semesters out of which first nine semesters require residential and formal contact instructions and the tenth semester is devoted to practical training in an established and recognised professional office. Each semester has 6 units of course work out of which a maximum of 2 courses are of Half unit weightage. The curriculum of the Under-graduate level broadly consists of:
Core Programme :
It consists of the following subjects
1. Architecture Design

2. Building Construction

3. Building Structure
Supporting Programme :
It consists of the following supporting subjects
1. Acoustics

2. Illumination

3. Refrigeration and Air-conditioning

4. Landscape Design

5. Humanities

6. Interior Design

7. Climatology

8. Public Health Services

9. Housing
Electives:
Following elective courses are offered in the 9th semester.
1. Interior Design

2. Town Planning Design

3. Landscape Design

4. Tropical Design

5. Applied Art

6. Building Design

7. Theory of Structures (Advanced)
Teaching and Evaluation Methods
The instruction in each of these courses is imparted through formal lectures, formal discussions, studio contacts and discourses by visiting specialists.
In addition to the above courses covered in 100 working days of each semester, additional academic programmes like practical training, measured- drawing and site studies, are carried out during the long vacations.
The University being residential equal emphasis is given to discipline, hobbies, sports and other similar activities of recreation.
The evaluation of core programme is normally done through a jury consisting of three or four members of staff to minimise subjective attitudes.
Subjects of their Weightage
The following charts shows the % weightage given to different group of subjects in the curriculum of B.Architecture Course.
1. Arch. Design 30%

2. Building Construction 15%

3. History of Architecture 10%

4. Structures 15%

5. Building Services 05%

6. Urban Planning/Design Landscape Design Tropical Design Passive Energy 10%

7. Miscellaneous 15%
Integrated Practical Training Programme
It is compulsory for all the students of B.Architecture to go through 2 phases of practical training. The first practical training, commonly known as summer training is of six weeks duration. After appearing for 6th semester examination (after 3rd year) students are supposed to complete the summer training. After completing the training, a training report is submitted by all the students which carries the details of work done and a certificate from the office of his/her training. For organising all these we have O.C. Training and Placement at department level and Employment Bureau at University level.
The 2nd phase of training is of four & half months duration. After completing 9th semester of regular studies, it is obligatory for each student to complete the 2nd phase of practical training to be eligible to get the degree of B. Architecture.
Measured-Drawing Camp
At 2nd year level a camp of ten days duration is held to physically measured an old building, having some typical Architecture character. Then they draw all the drawing including details of construction, modelling, journey etc. University provides separate financial assistance for this camp. During last few years the students have gone to different parts of the country for measured drawing camp e.g. Udaipur, Mussorrie, Nanital, Bhubaneshwar, Fateh-Pur- Sikri, Meerut, Delhi, Jaisalmer, Roorkee, Chittorgarh, Jodhpur etc.
Students Educational Tours
Tour is an integral part of Architectural Education. It is common that in Architecture you learn more by seeing & observing than by class room teaching. Our students regularly go on Educational tours to different parts of the country every year. In fact, we finalise our educational tour programme at the beginning of the session which is then usually integrated to the Design, Construction or Art assignments of that particular batch. For doing the administrative work of tours etc. an O.C. tours assists the Head of the Department. The University gives some assistance in the form of tour grants, but these grants are so meager that invariably students have to bear the financial burden of tours. Annexure `B' shows the tour programme for the current academic session.
B. Architecture Thesis
Allotment of Guides
As a normal practice the following system is being adopted for allocation of guides:
The students opt for a guide by consensus of the class.
The Department allocates a guide.
The guides are allotted on the basis of the lot system.
After allocation of guides, the students are advised to contact their respective guides for finalisation of the thesis project topics.
Three thesis project proposals, in order of priority have to be submitted to the project officer so that the Department could approve the topics well in time and before the students start their investigation during summer vacation. The proposal includes
(a) Brief project outline and scope
(b) programme
(c) architectural content or any other important feature/information on the project.
Students are also required to submit, by consensus, the desired dates for the seminars and Viva-Voce Examinations which is strictly followed as the External Jury is fixed well before time.
Ph.D. Programme
Department also offers Doctor of Philosophy (Ph.D) programme. So far 4 candidates have obtained Ph.D degree from this department and currently 10 scholar are envoled. The department is an approved centre for Ph.D & M.Arch/MURP studies under the Quality Improvement Programme (QIP) of Govt. of India for Teachers of Architecture colleges.
National Training Programme
Induction training programme for teachers in Architectural course organised by the Department and sponsored by AICTE.
Information on the Placement
Our students are groomed through rich field experience in prestigious architectural establishments some of them being run by our own distinguished Alumini. They have found suitable placement on completion of the course through campus interviews in companies like Tata Information systems Ltd., Banglore. Beside this tremendous job oppertunities are available for lucrative jobs in the private sector, some of them are obsorbed by the Public Work Department (PWD) in addition to the initiation of ours own private practice.
Major Groups/Specialisation
Architecture - Building Science, Landscape design Ecology, Urban Design
Town Planning- Rural planning & urban planning, Ecology.
Art - Visual Art & Graphic Art