University of Roorkee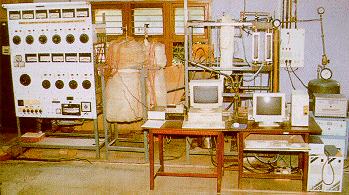 Molecular sieves absorber/desorber


STANDARDISATION/TESTING FACILITIES AND MAJOR EQUIPMENT
HAZOP analysis and safety assessment.
Particle size analysis from gas and liquid samples.
Physical and chemical analysis of gaseous emissions, liquid effluents and different materials like petroleum, petroleum products and fuels (solids, liquid and gas), various other chemicals like, lime cement, petro-chemicals, soils.
Pilot plant testing of chemiclal processes involving evaporation, distillation, heat exchange, crystallization, drying, absorption, chemical reaction, injection and blow moulding.
Fabricational Facilities.
Computational Facilites
PC-ATs; Pentiums (100-233 Mhz)
Nexus 3500 work satation;
Digital alpha 433 au workstation (433 Mhz)
Advanced Level Softwares
Chemical engineering flow sheeting and equipment design software HYSIS, PRO II with PROVISION, PROCEDE
Complete FEM package (COSMOS/M with modules like GEOSTAR, ASTAR, HSTAR, NSTAR, FSTAR, ESTAR, FLOWSTAR, FLOWPLUS, OPSTAR, FEE THERMAL) and an additional CFD module.
Hazard and risk analysis softwares to solve the problems related to the area of Process safety, Risk Management, Hazard and operability analysis.
Computational fluid dynamics package (CFD), FLUENT for modelling fluid flow, mass transfer, and chemical reaction in a chemical process equipment; it can also be used in the area of environment, material processing, and power generation.
Latest simulation facilities in the form of (FORTRAN, C and C++, VISUAL BASIC, DBASE, FOXPRO), High performance numerical analysis, Computation and visualistation softwares (MATLAB, SIMULINK), with advance tool boxes, System indentification, Robust control, Non-linear control, Control system, Fuzzy logic, Neurologic, Optimisation.
Process integration software, SUPERTARGET (for optimal synthesis and analysis of heat exchanger and distillation column network), Signal processing.
State of the art design software of heat exchanger (M-TASC) and reboiler (M-KETL).
Major Equipment
BOD and COD analyser
Calorimeter
Cascade impactors
Colony counter
Conductivity meter
D.O. meter
Flame photometer
Gas-liquid chromatograph
Hydrocarbon analyser
IR analyser
Partascope
Personal cyclone samplers
Polarimeter
Precision microscope
Refractometer
Rheoviscometer
Selective ion electrodes
Stack monitoring kit etc.
Toxic gas analyser
TOC analyser
UV Spectrophotometer
© ISC, 1998 : Last updated on 31 July, 1998
This page is maintained by the Information Superhighway Centre, UOR.