Electrical Engineering Department
University of Roorkee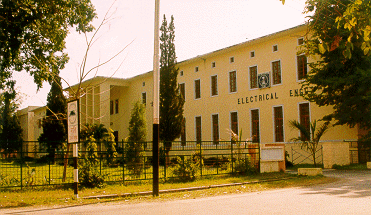 The Electrical Engineering Department was part of the Thomason College of Engineering from the year 1897, one of the earliest such specialization in the world when the discipline itself was in its infancy. The first batch in Electrical Engineering passed out of the College in the year 1900. This Department was closed down in the year 1923, following the recommendation of a special committee that the college may be converted to a purely Civil Engineering Institution. This decision was not to be reversed until on the eve of being converted into a University. The Fortescue committee advised the resumption of in structions in Electrical Engineering and the present Department of Electrical Engineering came into being in 1946, and the first graduate of the new department emerged in 1949. Initially, the Department offered courses with options in both Electrical & Telecommunication Engineering. Subsequently, in 1964, the Department was bifurcated to form the two Departments of Electrical Engineering and Electronics & Communication Engineering.

Presently Department is running the courses at undergraduate and post graduate levels and providing excellent facilities to carryout research work fo r Ph.D.degree, R&D work for sponsored and consultancy projects and testing and consultancy work for industrial problems.
© ISC, 1998 : Last updated on 30 March, 1998
This page is maintained by the Information Superhighway Centre, UOR.