University of Roorkee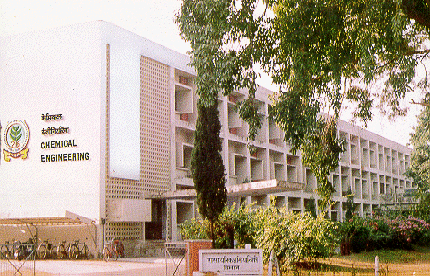 The Department of Chemical Engineering was established in 1963 primarily to impart traning at the Undergraduate level leading to the degree of B.E.(Chemical). The UGC sanctioned the opening of Master's Course in Equipment and Plant Design, in 1970. The programme was diversified by inducting two new areas of Industrial Pollution Abatement and Advanced Transfer Process. Subsequently, the specialisation of Equipment and Plant Design was redesigned, updated and rechristened as Computer Aided Process Plant Design.
The department has attained recognition in research in various areas of Chemical Engineering and has produced around 50 PhD and 150 ME theses. MHRD and AICTE have granted assistance to establish five research centre in the department.
The department received financial assistance from CSIR, UGC, MHRD, AICTE, MNES, and Department of Atomic Energy, and has also worked on collaborative research programmes with the University of Hannover, Germany. It has been providing consultancy to chemical and allied industries in several areas. At present, faculty members are working on research and consultancy project amounting to more Rs 50 lakhs.
© ISC, 1998 : Last updated on 31 July, 1998
This page is maintained by the Information Superhighway Centre, UOR.